In response to Baku's invasion, the people of Nagorno Karabakh organized a heroic self-defense effort. Outgunned and outnumbered, they overcame incredible odds and made painful sacrifices for the right to live in their homeland. In the end, primarily due to their discipline, motivation and superior fighting skills, Artsakh's Armenians succeeded in driving Azerbaijani occupying forces out of their territory. Another key factor of success of Armenian resistance was the collapse of the USSR, which left Baku without Moscow's military and political backing.
With the help of volunteer groups that were airlifted into Nagorno Karabakh from Armenia, Nagorno Karabakh's Armenians also established a wide demilitarized area, the Security Zone, around Nagorno Karabakh. In addition to ending the region's geographic isolation, the Security Zone became the backbone of the Nagorno Karabakh Republic's strategic defense system by virtue of encompassing rear territories with key heights and mountain passes. The Security Zone is guarded by the armed forces of the Nagorno Karabakh Republic—the Nagorno Karabakh Defense Army (NKDA).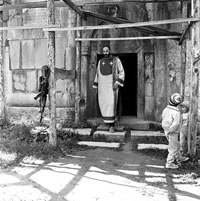 Some territories of Nagorno Karabakh proper, however, were never recovered, and to this day they remain under Azerbaijani occupation. These include the entire former Shahumian District, the Getashen sub-region and eastern portions of the districts of Mardakert and Martuni.
In January of 1992, with the disintegration of the USSR, the democratically elected leaders of Nagorno Karabakh exercised their right to self-determination. In accordance with international legal norms and through a referendum based on the USSR's Law on Secession from union republics (adopted in 1990), they once again re-established Artsakh's statehood, and instituted a free and sovereign nation—the Nagorno Karabakh Republic.
In May 1994, Nagorno Karabakh, Azerbaijan and Armenia signed a Russian-mediated ceasefire agreement that stopped hostilities. Since that time, the Nagorno Karabakh Republic has been in the process of rebuilding its economy, strengthening the foundations of liberal democracy and preparing itself for the formal recognition by the international community of nations.