50 shells have reportedly landed in Iran since beginning of Karabakh war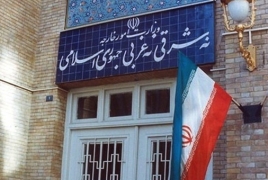 October 16, 2020 - 19:23 AMT
PanARMENIAN.Net - On October 15, up to 10 rockets hit villages in the Iranian border county of Khoda Afarin, injuring one person. A fresh video has landed online to reveal the moment one of the rockets lands on a building.
Iran's foreign ministry spokesman Said Khatibzadeh issued a new warning to the warring parties on Friday after stray fire from their conflict over the Nagorno-Karabakh region wounded a person. "If there is any repetition of such fire, the Islamic Republic of Iran will not remain indifferent," Khatibzadeh said.
As many as 50 shells have reportedly landed in Azerbaijan since the beginning of hostilities in Karabakh. Remains of Israeli-produced drones have also been discovered.
A six-year-old child was earlier injured in Iran in stray fire from the Azerbaijani side.
Azerbaijan, with help from Turkey and Syrian and Libyan mercenaries deployed by Ankara, started a war against Karabakh (Artsakh) in the morning of September 27. The Armenian side has reported deaths and injuries both among the civilian population and the military. Foreign and local journalists too have been injured in Azeri shelling of towns and villages.
Donations can be made to Hayastan All-Armenian Fund, which has launched a fundraising campaign to support humanitarian efforts in Karabakh.