Armenian, Azerbaijani leaders say ready to meet in Moscow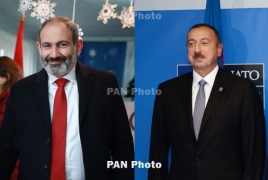 October 19, 2020 - 18:32 AMT
FMG.NEWS - Armenian Prime Minister Nikol Pashinyan and Azerbaijani President Ilham Aliyev have announced readiness to travel to Moscow for talks over the Nagorno-Karabakh conflict, TASS reports.
The Nagorno-Karabakh conflict should be resolved exclusively peacefully. And I am ready to make all the necessary efforts to achieve such a result, including traveling, meeting, talking," Pashinyan said when asked whether he is ready to go to the Russian capital himself for negotiations with the Azerbaijani leader.
"But we must all understand that the solution must be based on a compromise, and not on the capitulation of one of the parties."
In turn, Aliyev said that the Azerbaijani side is ready "to meet in Moscow or in any other place in order to end the confrontation and find ways for the settlement." Aliyev assured that Baku is "ready for any contacts."
Azerbaijan, with help from Turkey and Syrian and Libyan mercenaries deployed by Ankara, started a war against Karabakh (Artsakh) in the morning of September 27. The Armenian side has reported deaths and injuries both among the civilian population and the military. Foreign and local journalists too have been injured in Azeri shelling of towns and villages.
Donations can be made to Hayastan All-Armenian Fund, which has launched a fundraising campaign to support humanitarian efforts in Karabakh.