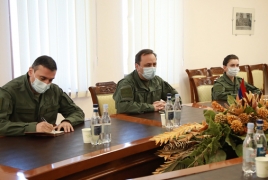 October 16, 2020 - 15:58 AMT
PanARMENIAN.Net - The Armenian Defense Ministry has informed the military attaché of the Iranian Embassy in Yerevan that the Azerbaijani Armed Forces continue to carry out operations along the border with Iran, using the border as a shield in the war they have started against Nagorno-Karabakh (Artsakh).
The head of the General Department of Defence Policy and International Cooperation of Armenia's Defense Ministry, Levon Ayvazyan, met with the newly appointed military attaché of the Iranian Embassy , Colonel Bahman Sadeghin, in Friday, October 16.
"The Iranian side was reminded of the need to move the operations of the Azerbaijani Armed Forces to a safe distance from the Iranian border," the Defense Ministry said in a statement.
The Ministry said on behalf of the Artsakh Defense Army that if the situation doesn't change, "the Defense Army reserves the right to fire destructive strikes on the Azerbaijani Armed Forces in the area, the full responsibility for the consequences of which will rest with the military-political leadership of Azerbaijan."
Iran warned the sides to the Karabakh conflict after stray fire wounded one person on the Iranian side of the border.
Azerbaijan, with help from Turkey and Syrian and Libyan mercenaries deployed by Ankara, started a war against Karabakh (Artsakh) in the morning of September 27. The Armenian side has reported deaths and injuries both among the civilian population and the military. Foreign and local journalists too have been injured in Azeri shelling of towns and villages.
Donations can be made to Hayastan All-Armenian Fund, which has launched a fundraising campaign to support humanitarian efforts in Karabakh.