Karabakh Army reports 40 more deaths raising the toll to 673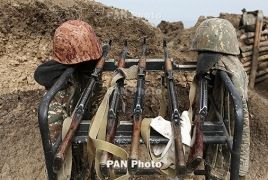 October 18, 2020 - 11:28 AMT
The Defense Army of Nagorno Karabakh has reported 40 more deaths in fighting against Azerbaijan.
Since September 27 morning, when Azerbaijan started a war against Karabakh, 673 Armenian soldiers have been killed.
A humanitarian ceasefire was supposed to come into effect but Azerbaijan launched a new offensive in the morning of October 18.
Azerbaijan, with help from Turkey and Syrian and Libyan mercenaries deployed by Ankara, started a war against Karabakh (Artsakh) in the morning of September 27. The Armenian side has reported deaths and injuries both among the civilian population and the military. Foreign and local journalists too have been injured in Azeri shelling of towns and villages.