Azerbaijan violates truce with new offensive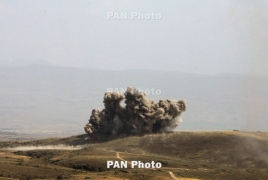 October 18, 2020 - 10:22 AMT
The Azerbaijani Armed Forces violated the new humanitarian truce by launching a new offensive in the morning of October 18, the Defense Army reports.
"At 07: 20 am, after active artillery fire, the enemy launched an attack in the southern direction (Khudaferin Reservoir) in order to occupy favorable positions. There are casualties and injuries on both sides," the Defense Army said.
"The Karabakh armed forces have destroyed four enemy assaulting tanks in the southern direction. In the southern flank of the Artsakh-Azerbaijani conflict zone the enemy is employing a large number of UAVs and artillery systems."
Azerbaijan, with help from Turkey and Syrian and Libyan mercenaries deployed by Ankara, started a war against Karabakh (Artsakh) in the morning of September 27. The Armenian side has reported deaths and injuries both among the civilian population and the military. Foreign and local journalists too have been injured in Azeri shelling of towns and villages.