CoE: Armenia, Azerbaijan have committed to settling conflict peacefully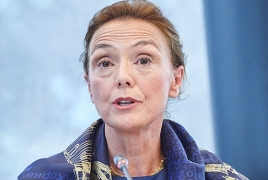 October 19, 2020 - 18:21 AMT
FMG.NEWS - Armenia and Azerbaijan have committed before the Council of Europe to the protection of human rights in their countries, as well as to achieving a peaceful settlement of the Nagorno-Karabakh conflict, CoE Secretary General Marija Pejčinović Burić said in Moscow on Monday, October 19.
"Regardless of politics, people living there should enjoy the same rights, democracy and the rule of law as any other European," the Secretary General said, according to RFE/RL Armenian Service.
"The authorities have a responsibility to ensure that the Council of Europe is able to freely enter these territories in order to assess the situation on the ground and provide them with the best possible support."
A spokesman for Pejčinović Burić, Daniel Holtgen said in a tweet that "after continued armed conflict last week with many civilian casualties we reiterate our concern over an escalating humanitarian crisis in Nagorno-Karabakh and call on all sides to respect the ceasefire of 10 October and return to the negotiation table."
Azerbaijan, with help from Turkey and Syrian and Libyan mercenaries deployed by Ankara, started a war against Karabakh (Artsakh) in the morning of September 27. The Armenian side has reported deaths and injuries both among the civilian population and the military. Foreign and local journalists too have been injured in Azeri shelling of towns and villages.
Donations can be made to Hayastan All-Armenian Fund, which has launched a fundraising campaign to support humanitarian efforts in Karabakh.