Lavrov hopes for early deal on truce monitoring mechanism in Karabakh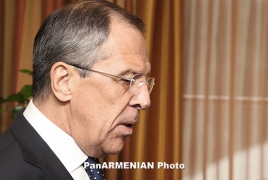 October 19, 2020 - 19:19 AMT
FMG.NEWS - Russian Foreign Minister Sergey Lavrov has said that Armenia, Russia and Azerbaijan may soon agree on a ceasefire monitoring mechanism in Nagorno-Karabakh.
"In order for the ceasefire to work – we have already witnessed that the adoption of the two documents did not radically change the situation on the ground – it is necessary to create a mechanism to monitor compliance with the ceasefire. We, including our Defense Ministry, are actively working on the matter with our colleagues from Azerbaijan and Armenia. I hope we will reach an agreement on such a mechanism in the nearest future." Lavrov told a news conference, according to TASS.
"We are convinced that the most important thing now – and this, probably, does't require much effort – is to immediately stop escalating bellicose rhetoric both between the parties (to the conflict) and by responsible international players."
The Russian foreign policy chief maintained that it is also necessary to stop the hostilities and the targeting of civilian infrastructure.
Lavrov stressed the necessity to significantly speed up the efforts to achieve a resolution via diplomacy։ "We must urge the parties to agree on key provisions that will allow to stabilize the situation in this region in the long term."
Azerbaijan, with help from Turkey and Syrian and Libyan mercenaries deployed by Ankara, started a war against Karabakh (Artsakh) in the morning of September 27. The Armenian side has reported deaths and injuries both among the civilian population and the military. Foreign and local journalists too have been injured in Azeri shelling of towns and villages.
Donations can be made to Hayastan All-Armenian Fund, which has launched a fundraising campaign to support humanitarian efforts in Karabakh.
Source:
//FMG.NEWS
Views today: 93
Thank you for your attention
We would be most grateful if you share this article in the social networks.
RELATED NEWS: