Armenia denies Baku's accusations of targeting Azeri pipeline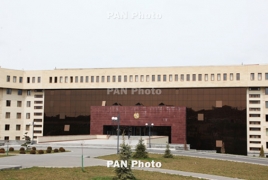 October 19, 2020 - 17:05 AMT
FMG.NEWS - The Armenian Defense Ministry has denied Bakus' accusations of opening firing on an oil pipeline in Azerbaijan.
"The statement issued by Azerbaijan's Prosecutor General's Office that Armenia allegedly targeted Baku-Novorossiysk oil pipeline is an absolute lie, and lies do not even need to be commented on," Defense Ministry spokeswoman Shushan Stepanyan said.
Azerbaijan, with help from Turkey and Syrian and Libyan mercenaries deployed by Ankara, started a war against Karabakh (Artsakh) in the morning of September 27. The Armenian side has reported deaths and injuries both among the civilian population and the military. Foreign and local journalists too have been injured in Azeri shelling of towns and villages.
Donations can be made to Hayastan All-Armenian Fund, which has launched a fundraising campaign to support humanitarian efforts in Karabakh.