French Senator to table a bill for the recognition of Karabakh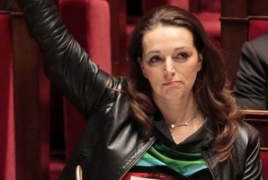 October 20, 2020 - 19:12 AMT
French Senator Valérie Boyer will submit a proposal to the parliament of France for the recognition of Nagorno-Karabakh (Artsakh), Boyer said in a
tweet
Monday, October 20.
"To oppose the advance of Azerbaijan in Nagorno-Karabakh means to oppose the expansion of Turkey's Islam across Europe," the lawmaker wrote.
"I will submit a text to the Senate this week to recognize Nagorno-Karabakh and condemn the actions of Turkey and Azerbaijan."
Azerbaijan, with help from Turkey and Syrian and Libyan mercenaries deployed by Ankara, started a war against Karabakh (Artsakh) in the morning of September 27. The Armenian side has reported deaths and injuries both among the civilian population and the military. Foreign and local journalists too have been injured in Azeri shelling of towns and villages.
Donations can be made to Hayastan All-Armenian Fund, which has launched a fundraising campaign to support humanitarian efforts in Karabakh.