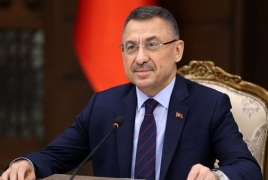 October 22, 2020 - 10:50 AMT
Turkey will not hesitate to send soldiers and provide military support for Azerbaijan if such a request is made by Baku, Vice President Fuat Oktay said on Wednesday, October 21, adding there was no such request at the moment,
Reuters
reports.
In an article published days earlier, however, Kommersant revealed that a significant number of Turkish servicemen have remained in Azerbaijan after joint military drills this summer, to coordinate and direct the planning and execution of the offensive operations against Nagorno-Karabakh.
According to military diplomatic sources, 600 Turkish servicemen, as well as 18 infantry fighting vehicles, one multiple launch rocket system, 10 vehicles and up to 34 aircraft (including 6 warplanes, 8 helicopters, up to 20 drones) have remained in Azerbaijan after the drills.
Speaking in an interview with broadcaster CNN Turk, Oktay also criticised the OSCE's Minsk group - formed to mediate the conflict and led by France, Russia and the United States - of trying to keep the issue unresolved and supporting Armenia, both politically and militarily.
Azerbaijan, with help from Turkey and Syrian and Libyan mercenaries deployed by Ankara, started a war against Karabakh (Artsakh) in the morning of September 27. The Armenian side has reported deaths and injuries both among the civilian population and the military. Foreign and local journalists too have been injured in Azeri shelling of towns and villages.