Karabakh troops destroy TOS-1A system of Azeri army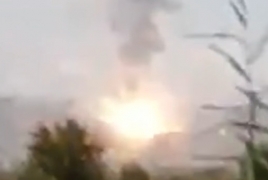 October 24, 2020 - 16:36 AMT
The Nagorno-Karabakh Defense Army has unveiled footage of the destruction of a TOS-1A multiple rocket launcher belonging to the Azerbaijani military.
The Karabakh forces earlier struck a large special formation of the Azerbaijani armed forces in the south of the front, also confiscating equipment and capturing an Azeri soldier.
Azerbaijan, with help from Turkey and Syrian and Libyan mercenaries deployed by Ankara, started a war against Karabakh (Artsakh) in the morning of September 27. The Armenian side has reported deaths and injuries both among the civilian population and the military. Foreign and local journalists too have been injured in Azeri shelling of towns and villages.