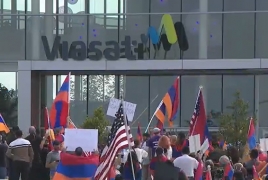 October 24, 2020 - 15:33 AMT
American communications company Viasat will openly support and comply with any U.S. Government decision on the export of technology to Turkey, the company told
PanARMENIAN.Net
on Friday, October 23.
Viasat's comments came after hundreds of Armenians protested in front of the California headquarters for the defense business that provides high technology products to the United States military as well as its coalition partners and NATO allies. The tech Viasat provides to Turkey is being used in Turkish Bayraktar combat drones which are currently being used by the Azerbaijani military against the Armenians of Nagorno-Karabakh.
According to a report from FOX 5 San Diego, Ken Peterman, the president of Viasat's government systems business, has said: "At Viasat, we have ceased shipment of products in this kind of nature to Turkey and to the defense-industrial base in Turkey."
In the statement provided to PanARMENIAN.Net though, the company said they have sold communications products to Turkey as a NATO partner but are not shipping any products to Turkey "at the current time".
"Viasat does not condone any attack on innocent civilians. We do not support the use of our products or services to commit acts of terrorism or genocide. We would openly support and comply with any U.S. Government decision on the export of technology to Turkey. We have sold communications products to Turkey as a NATO partner. We are not shipping any products to Turkey at the current time, nor are we currently providing any satellite-based services, or other streaming services, to the Turkish military," the company said.
"We continue to track the situation, and stand firmly against the loss of innocent lives. While we will continue to comply with all U.S. Government and State Department regulations that govern international sales and engagement, we are taking immediate additional steps, in partnership with the U.S. Government and U.S. State Department, to ensure the end use of the communication products and services we sell and license strictly adhere to established guidelines and laws.
Azerbaijan, with help from Turkey and Syrian and Libyan mercenaries deployed by Ankara, started a war against Karabakh (Artsakh) in the morning of September 27. The Armenian side has reported deaths and injuries both among the civilian population and the military. Foreign and local journalists too have been injured in Azeri shelling of towns and villages.