Sean Penn: Armenians are being slaughtered Erdogan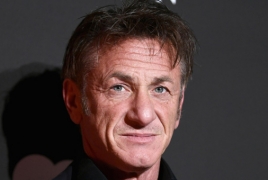 October 24, 2020 - 17:10 AMT
Hollywood actor Sean Penn has
said
that Armenians are being slaughtered by Turkish President Recep Tayyip Erdogan.
"As too many of us sit on our butts, Armenians are being slaughtered by Trump pal Erdogan with weapons WE provided. THIS is NOT America! Biden for America's new birth!" the actor tweeted on Saturday, October 24.
Azerbaijan, with help from Turkey and Syrian and Libyan mercenaries deployed by Ankara, started a war against Karabakh (Artsakh) in the morning of September 27. The Armenian side has reported deaths and injuries both among the civilian population and the military. Foreign and local journalists too have been injured in Azeri shelling of towns and villages.