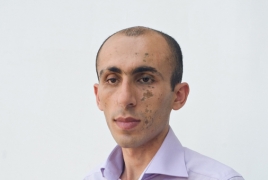 October 24, 2020 - 14:58 AMT
The Human Rights Defender of Artsakh (Nagorno-Karabakh) has reported on several missing civilians who he said may have been killed, tortured and subjected to other war crimes.
Ombudsman Artak Beglaryan said Saturday, October 24 that 37 residents of Artsakh have been killed in Azerbaijan's aggression, and 118 others have been wounded. These numbers, he said, do not grow quickly because civilians almost never leave the underground shelters.
According to Beglaryan, some 10,500 properties, more than 1500 infrastructure buildings and over 1100 units of movable property have been damaged or destroyed in Azerbaijan's attacks.
The Human Rights Defender also drew the international community's attention to videos published by Azerbaijani social media users, which show the torture and humiliation of Armenian prisoners of war by Azeri troops, the mutilation of corpses and other war crimes, in gross violations of the Geneva Conventions.
In videos published almost two weeks ago, Azerbaijani soldiers filmed themselves torturing two Karabakh prisoners of war, one of them a civilian, and then brutally murdered them. Other POWs are being humiliated too. Furthermore, several civilians, including a young disabled man, were killed in Azerbaijan's infiltrations attempts in Karabakh.
Azerbaijan, with help from Turkey and Syrian and Libyan mercenaries deployed by Ankara, started a war against Karabakh (Artsakh) in the morning of September 27. The Armenian side has reported deaths and injuries both among the civilian population and the military. Foreign and local journalists too have been injured in Azeri shelling of towns and villages.