Eduardo Eurnekian donating $3.5m to Armenia Fund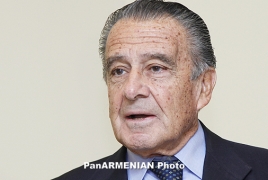 October 27, 2020 - 18:07 AMT
Argentine billionaire businessman of Armenian descent Eduardo Eurnekian is donating
$3.5 million to Hayastan All-Armenian Fund
, the Fund's Executive Director Haykak Arshamyan said Tuesday, October 27.
"Argentinian Armenian entrepreneur, philanthropist and member of the Board of Trustees of the Hayastan All Armenian Fund, Eduardo Eurnekian, has joined the Fund's "We Are Our Borders" global fundraising initiative by donating $3.5 million," Arshamyan said.
Azerbaijan, with help from Turkey and Syrian and Libyan mercenaries deployed by Ankara, started a war against Karabakh (Artsakh) in the morning of September 27. The Armenian side has reported deaths and injuries both among the civilian population and the military. Foreign and local journalists too have been injured in Azeri shelling of towns and villages.
Donations can be made to Hayastan All-Armenian Fund, which has launched a fundraising campaign to support humanitarian efforts in Karabakh.