Armenia vows to use entire arsenal in the event of border violation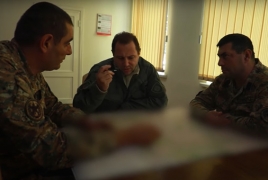 October 27, 2020 - 15:15 AMT
The Armenian Defense Ministry has unveiled footage from the country's southern border which shows the Azerbaijani army firing on the Armenian soil.
On Tuesday, October 27, Azeri troops used drones and rocket and artillery systems to shell the positions of the Armenian border guard in the country's southeast, next to the border crossing with Iran. One of the drones Azerbaijan used has crashed on Armenian soil.
Stepanyan earlier reported injuries from the Armenian side.
Also Tuesday, Defense Minister Davit Tonoyan discussed the situation in the country's south with the command staff of the army․
Defense Army officials said the Armenian side has sustained no losses of manpower or of equipment as a result of Azerbaijan's aggression. They said the Armed Forces know all the firing positions of the adversary and vowed to use the country's entire arsenal if Armenia's border is violated.
Azerbaijan, with help from Turkey and Syrian and Libyan mercenaries deployed by Ankara, started a war against Karabakh (Artsakh) in the morning of September 27. The Armenian side has reported deaths and injuries both among the civilian population and the military. Foreign and local journalists too have been injured in Azeri shelling of towns and villages.