Official: Armenian side has 2 Azeri POWs; 17 Armenian soldiers held in Azerbaijan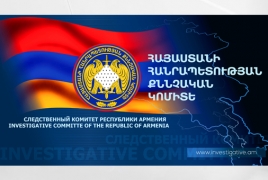 October 27, 2020 - 14:08 AMT
The Armenian side has two Azerbaijani prisoners of war who have been interrogated, according to Rafayel Vardanyan, Head of the Department of Criminalistics at Armenia's Investigative Committee.
"They are kept in conditions that comply with international humanitarian law, receive appropriate medical care and food," Vardanyan told reporters on Tuesday, October 27.
"During the interrogation, one of them even noted that he would hardly be treated better in Azerbaijan."
Vardanyan said 17 servicemen from the Armenian side are currently kept in Azerbaijan.
It was reported earlier that an Armenian civilian named Azniv Baghdasaryan was captured by the Azerbaijani military on October 7.
Azerbaijan, with help from Turkey and Syrian and Libyan mercenaries deployed by Ankara, started a war against Karabakh (Artsakh) in the morning of September 27. The Armenian side has reported deaths and injuries both among the civilian population and the military. Foreign and local journalists too have been injured in Azeri shelling of towns and villages.