Azerbaijan tried to bring armored vehicles to the south but couldn't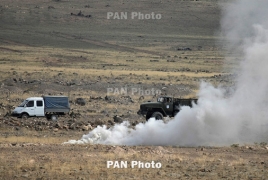 November 2, 2020 - 11:20 AMT
The Azerbaijani forces attempted to bring armored vehicles close to the southeastern part of the frontline overnight, but the Nagorno-Karabakh Defence Army destroyed one adversary tank, while the others retreated, the Defense Army said Monday, November 2 morning.
At the moment, the tactical situation is under the control of the Defence Army.
Battles of varying intensity were waged along the Karabakh-Azerbaijan frontline overnight. In some areas, Azerbaijani convoys were detected by the Karabakh troops and destroyed.
The Azerbaijani military also continued firing missiles and rockets attacks on various civilian settlements.
Azerbaijan, with help from Turkey and Syrian and Libyan mercenaries deployed by Ankara, started a war against Karabakh (Artsakh) in the morning of September 27. The Armenian side has reported deaths and injuries both among the civilian population and the military. Foreign and local journalists too have been injured in Azeri shelling of towns and villages.
Donations can be made to Hayastan All-Armenian Fund, which has launched a fundraising campaign to support humanitarian efforts in Karabakh.