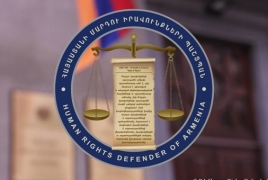 November 1, 2020 - 19:25 AMT
Azerbaijani social media users have been disseminating more footage depicting the torture of Armenian prisoners of war, as well as the desecration of the bodies of dead Nagorno-Karabakh soldiers.
In one of the latest videos, the Azerbaijani soldiers are seen cutting the ear of a murdered Armenian soldier.
They also seen hitting prisoners of war on the head, trampling their heads, piercing the various parts of their body with sharp objects, and making fun of them.
In another video, the one filming the process can be heard telling another soldier to cut off the finger of an Armenian prisoner of war.
The Azerbaijanis earlier filmed their torture and brutal murder of two Armenian prisoners of war, one of them an elderly civilian. In another video published by Twitter users, an Azerbaijani soldier is seen using a handgun to shoot a wounded Armenian serviceman in the head at close range.
A third video spreaded by Azerbaijani social media users shows the bodies of 19 Armenian servicemen. Some of them are naked, at least four of them have their hands tied behind their backs.
Azerbaijan, with help from Turkey and Syrian and Libyan mercenaries deployed by Ankara, started a war against Karabakh (Artsakh) in the morning of September 27. The Armenian side has reported deaths and injuries both among the civilian population and the military. Foreign and local journalists too have been injured in Azeri shelling of towns and villages.